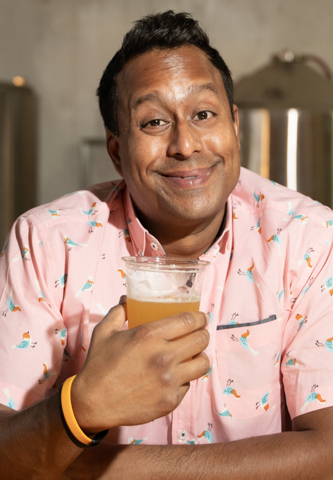 Welcome back to another installment in our Explore Austin series with Food Network's Ali Khan! Ali is checking out notable restaurants around Austin that you can visit using CapMetro as you get back to what you love in our great city. Don't forget that weekend rides are FREE through July 4th! Head to our Trip Planner to get started!
Hey guys, Ali Khan here with another installment of Explore Austin. Today, we are talking about barbecue; specifically barbecue for the soul. So what exactly does "barbecue for the soul" mean? Well, more that just a round of up best BBQ joints in town, I wanted to focus on the culture of barbecue and it being around Juneteenth, feature some Black pitmasters who are frankly the blood, sweat and tears of barbecue.
Get ready for some saucy 'cue, but no bibs necessary. And even though it's hotter than the surface of the sun these days in Austin, you'll be glad to know that both our barbecue spots feature access to air conditioned dining. That's a game changer for the next couple months at least.
Lastly I'll add this before we dig in: there's no shortage of great barbecue in Austin and while we all have our favs, keep in mind that barbecue is more than just melt-in-your-mouth brisket. It's a longstanding culture whose traditions transcend any Yelp rating. A barbecue spot worth its salt has a story and lineage behind it that's just as important as the rub on the brisket or the wood in the smoker. Get ready to for two good stories, kissed with smoke and cooked with love.
CapMetro stops near Slab BBQ: Research/Burnet, Stop ID 4691 Route: 383
Slab BBQ has two locations, I went to the one off Research blvd that's a 5 minute walk from a bus stop. In fact it's not too far from Q2 stadium, in case you're looking for a third spot to hit up before or after an Austin FC game.
Starting out as a food trailer called Sugar Shack, owners Mark Avalos, Raf Robinson, Jason Hernandez Chris Osbourne and Chip Gourley evolved their distinct barbecue vision into Slab, which is an acronym for "Slow, Low and Banging." What sets Slab BBQ apart from the old school barbecue joints like Black's or craft barbecue places like La Barbecue, is the influence of Memphis and Carolina styles and a focus on bold barbecue sandwiches. There's Alabama White Sauce in the BBQ Chicken slider, and the overall experience at Slabs highlights sauces take cues from the sweeter and tangier side of barbecue.
Pro tip: while you can order meats by the pound, you're here for the sandwiches. A sandwich called "The Donk" includes every meat on the menu and weighs in at a full pound. Others are named for Black pop culture icons, the like the "McDowell." Yup, you're looking what the McRib could (and should) be if it was made with a Pitmaster's love and actual ribs (Chef Mark removes the bones after smoking). Not only is the sandwich's name a reference to the movie Coming to America, but it's Mayor of Flavortown approved! Slab was featured in a 2019 episode of Guy Fieri's Diners, Drive Ins, and Dives.
Along with the McDowell, I'd strongly consider the "El Jefe." As a total Texas transplant with zero affinity nor nostalgia for queso, this is the second time queso actually made sense to my palate. Not surprisingly both times involved brisket. Nothing about Slab's BBQ is traditional, not the sandwich combos nor the sincere adoration for hip hop. Wu-Tang Clan references adorn the bathroom doors and they have a sandwich named C.W.A. which stands for Chicken With Attitude and a clear tip of the cap to arguably the most iconic Rap group ever, N.W.A.
If it's not obvious by now, Slab's has a culture that stands out in the world of barbecue. Like the hip hop references that coat the walls at Slab's, the culinary POV here samples different genres and remixes the game a bit. Jason Hernadez, one of Slabs's partners, said "we aren't trying to be biters." That they are not. While barbecue sandwiches itself may not sound game changing, I challenge you to find sandwiches that are this bold by design yet actually deliver with genuine smoked meats.
For you BBQ heads, I'll also add that the their smoker is a Southern Pride, featuring a gas assist that fires up Oak and Pecan. The words "gas assist" might shake the confidence of some purists, but I got plenty of smoke from the chopped brisket and the meat was pretty darn juicy too.
Like rap and hip hop, barbecue aficionados put an emphasis on the old school. But keep in mind, you can't have an old school without someone striving to be new school. As chef Mark Avalos puts it, "everyone wants to be on Texas Monthly; we wanted to be on Diners, Drive Ins and Dives." That's new school barbecue thinking right there, folks. Now come get your BBQ sandwich on.
CapMetro stops near Brown's BBQ: 2008 Lamar/Hether, Stop ID 2326 Route: 3
Switching gears to the old school, I found myself finally trying Brown's BBQ on S. Lamar Blvd, a trailer situated in the parking lot of Corner Bar. Daniel Brown did pop-ups for years before opening Brown's BBQ. His pop-ups though weren't exactly the chef-driven, Instagram-hyped sensations they are now. In the early 2000s, the self taught pitmaster would set up for Austin City Limits Music Festival in the lot at Barton Springs Saloon.
Back then, regulations were a bit looser and Daniel was able to serve the kind of Central Texas barbecue he was brought up on to the scores concert goers who would travel to Austin's famed music festival. One of his regulars was from Denmark, who would visit Brown's barbecue set up when he was in town for the festival. Eventually city regulations regarding food vendors became more strict and Brown's had to shut down. That customer from Denmark came back one year to Barton Springs Saloon, asking, "what had happened to the bbq guy? That was my favorite part about ACL." The bartender responded that Brown's had to shut down. Daniel happened to be there when this conversation took place, which was when he decided he need to come up with a more permanent set up.
When I met Daniel Brown, he was wearing a t-shirt that said "78704", which is the zip code where Brown's BBQ resides and where Daniel grew up. Born and raised in Austin, his barbecue style is connected to Lockhart TX, where his dad worked the pits at Chisolm Trail. Daniel learned the art of barbecue by watching his dad, simple as that. In a barbecue world that, nowadays, is no stranger to fine dining chefs and an ever-evolving global pantry, Daniel Brown's barbecue is steeped in tradition. Even though the trailer opened in 2012, make no mistake that the barbecue at Brown's is old school Central Texas.
Brown's BBQ makes the round ups on sites like Eater as a place to go for some bang for your buck. Still, being listed along with craft barbecue joints like Micklethwait means your brisket has to stand up. Out the gate I'll say right now this brisket is pretty darn juicy and you can't go wrong with ordering some up. Brown's also does boudin, a cajun sausage that's stuffed with rice, pork and sometimes liver, a staple in Louisiana and East Texas as well.
The link was respectable too, moist like brisket, though its a finer grind than my preference. Daniel says "a true test of a BBQ joint: how do they do the chicken and ribs? If they can do that they can do BBQ". I tried both and was partial to the chicken. The St. Louis cut spareribs were huge and quite fall off the bone too. The smoke and bark was little light on the ribs but played well for the chicken. My big takeaway from all the meats is that Daniel doesn't like it dry.
For the BBQ heads, here are the deets: Daniel uses a custom smoker that he built and post oak that he chops on his own to keep his costs down. I've interviewed a lot of chefs over the years and Daniel Brown could take the cake for being exactly he puts out on the plate: a legit taste of Texas.
"I am the C and the Y in country," Daniel said. "The smoke runs through our veins." And by "our," he's referring to his daughter Amaris, who has not only worked at the trailer since high school, but is poised to take over, which Daniel alluded to more than once.
It's not easy to take over the family business, nor is it always in the cards for the next generation. So I had to ask how Amaris felt about doing this work and ultimately taking over. I should add here that even with a window AC unit which Brown's has, making barbecue in a food trailer in the Texas heat is HARD WORK. Still, Amaris said, "I love it," with zero hesitation. In the Brown family, smoke certainly does run through the veins.
As a Texas transplant who fell for craft barbecue first, I gotta tell you that if you're craving a taste of old school Central Texas barbecue, I'd skip Lockhart and head to Brown's BBQ; it's a way shorter trip. Even if you take the bus!
And there you have it: two barbecue joints for the soul. Old school bbq and new school bbq, both rooted in the culture of the cuisine. Something to chew on as we honor Juneteeth with more awareness and reverence for the contributions African Americans have made to the most American of cuisines: barbecue.