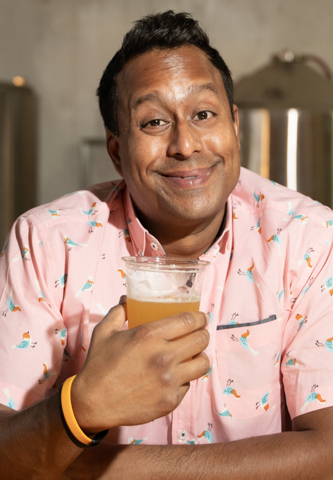 We're celebrating getting back to what we love this summer and we want you to join in on the fun! Not only are we offering FREE weekend rides from June 5 – July 4, but we're helping you kick off the fun with some delicious recommendations. Our foodie friend Ali Khan is helping us highlight restaurants across Austin, new and old, that you need to know about and that you can easily visit using CapMetro.
Welcome to the first installment of Explore your Austin, where we take you around town to sample old school and new school restaurants, all accessible by CapMetro. My name is Ali Khan and if you watch Food Network and Cooking Channel, you've probably seen me on shows like Cheap Eats, The Best Thing I Ever Ate, and recently, Spring Baking Championship.
For the last five years, I've also been an Austinite. And I'm here to celebrate the Austin food scene and its unique character. Austin was cool way before it became hipster chic, so there are restaurants representing days gone by that are well worth your time and attention. The city is also a draw for culinary talent and new ideas and I intend to put the spotlight there, too.
Everything we feature here will be accessible by CapMetro. Why? Because as any city grows, so come growing pains like traffic, parking, gas prices, etc. I'm a believer in public transit and believe it's a great way to explore and connect with your city.
And with that, let's talk about what's happening in Austin right now: Austin FC and where you should eat before and after the games. The two restaurants we're featuring this week are Huckleberry, a seafood truck near Q2 Stadium, and Mi Madre's, an iconic Austin Tex-Mex restaurant near MLK Station.
How to Get There
CapMetro stops near Huckleberry: Kramer Station, 2415 Kramer/Brockton and 2236 Braker/Kramer
CapMetro stops near Mi Madre's: MLK Station, Dean Keaton/French and 2314 Manor/Maple
Where to Eat Near Q2 Stadium
As much as I get fired up at the games, I'm just as hyped for the food options before and after. While the stadium has plenty to offer, here are two of my picks for before and after an Austin FC match. Because if you're like me, the pregame and postgame is just as important as the game-game.
Huckleberry is a relatively new offering to the Austin dining scene. Parked on Braker Lane by Circle Brewing Co., the Huckleberry food trailer is about a 15-minute walk to the stadium. It's worth schlepping a few extra steps to nosh on quality seafood, which just happens to pair so well with the beers next door at Circle Brewing.
Partners Reese Melinda and Chef Davis Turner grew up with a tradition of backyard Gulf seafood parties and wanted to bring that here to Austin. Despite opening during the pandemic, the two stayed the course and are now just starting to blow up, as Austin FC fans discover their tasty fare.
When you try the Shrimp Roll, you might be raving, too. Texas Gulf shrimp are perfectly poached for a quick three minutes before leaving the flame but not the pot. The carryover heat brings the shrimp to temp before they get sauced in a bath of scratch-made lemon aioli, vibrant fresh dill and fried capers.
What separates a great recipe from a great meal, besides execution, is top-notch ingredients. A cornerstone of the Huckleberry concept was sourcing great seafood from the Gulf. When you read a farm's name on a menu, you sometimes cotton to the time and energy that went into creating the supply chain that brings the purple carrot to the hip restaurant on East 6th street. Even more challenging is creating a sustainable Gulf seafood supply chain. At Huckleberry, you get just that.
You'll taste it in the Black Drum Fish Sandwich, which goes beyond simply a Filet-O-Fish on steroids. There's something a bit more meaty and satisfying to the flavor profile of Black Drum when compared to more mild-mannered fish like cod. When fish is fresh, it's just far more interesting.
I'll play the part of a proper food critic for a sec and say that the fries don't match up to the previous dishes. But hey, you're eating at a food truck, and expecting Kennebec potatoes hand-cut and fried to order is simply asking a bit too much.
The fries are very forgivable when one tastes the watermelon salad or the charbroiled oyster flight featuring five different toppings. The former is the ultimate edible summer heat wave reprieve, and the latter, in particular the Oyster Rockefeller topped with caviar, was one of the more decadent bites I have ever had, either at a food truck or on a white tablecloth.
Not surprisingly, all of this comes with a price. The sandwiches run $13-14, with sides around $6, and there are platters that sail past the $30 mark. But… it's quality seafood with the promise of sustainability. And that means something, whether you're sitting in a hip dining room or at a picnic table in your Austin FC jersey.
I should add that the smashed burgers are pretty reasonable and there is a kid's menu too. But trust me on this, if that shrimp roll sounds remotely appetizing, you're gonna be a Huckleberry regular.
Legendary East Austin Tex-Mex
Switching gears for a taste of old school Austin brings us to the east side and Mi Madre's. A local Tex-Mex staple, Mi Madre's has garnered a loyal following spanning 30 years of business. Aurelio Torres and his wife Rosa, opened Mi Madre's in 1990 with a lot of heart but not a lot of money. The restaurant business is fraught with stories of frustration and failure. To hear Aurelio reminisce over his three decades in the biz, it sounds like none of that ever entered his mind or deterred his spirit to succeed.
I've spent a few years meeting memorable characters in the restaurant industry, and let me tell you, Aurelio is up there with the very best. His success and Mi Madre's loyalty are tied into his spirit as much as, if not more than, the food. Ask any Austinite about the breakfast tacos at Mi Madre's and you will know that their food is pretty darn good.
You could start with the UT Longhorn's football team who get Mi Madre's catered during their spring training. Or ask any "hurting" east sider on a Sunday morning who needs a hangover cure in the form of miguitas. College football players and hungover hipsters may not have a lot in common, but clearly there is common ground when it comes to refried beans.
Me? I'm a barbacoa man. Barbacoa is from the Mex end of the Tex-Mex spectrum (Tex-Mextrum? SpecTextrum? Best Western?). It was Mexican food before Mexico existed, and barbecue before the word barbecue existed; and you know that was long ago, because without barbecue, Texas couldn't exist yet. Even now, barbacoa refers to almost as many kinds of slow-cooked meat as its Anglo counterpart, from cochinita pibil in the Yucatan to cow's head in South Texas, with lots of braised goat and lamb in between. Around here, we're usually talking about the sort of braised beef that I have fallen for, head over heels, since moving to Austin. Mi Madre's version calls for beef cheeks to be braised for 10 hours. They double wrap the cheeks in foil so the meat is immersed in rendered fat. That plus some fresh pico de gallo and their house green salsa and I'm set.
While the menu is rooted in Tex-Mex classics, Mi Madre's is more than just a genre of Mexican-American cooking. Aurelio and Rosa opened this restaurant when the east side came with its share of issues. There was a higher crime rate. And there certainly wasn't the same kind of foot traffic that businesses would typically want.
That didn't matter too much to Aurelio and Rosa. They needed to make a run of what they had, namely the restaurant and who they could serve. They would serve anyone who came through the door. If they couldn't pay their tab, Rosa would say to them, "pay me tomorrow". Back then and even now, some buildings would get hit with graffiti. Except Mi Madre's. Then, as now, Mi Madre's earned the respect of the neighborhood.
If you're coming after an Austin FC game, fair warning that you might miss the breakfast tacos which get cut off at 3pm. All will be right, though, because the barbacoa tacos are still available along with some hearty plates like the chicken mole enchiladas or the crispy fish tacos.
The fish tacos, which feature tilapia, aren't at the level of seafood found at Huckleberry, namely sustainable. But there is sustainability happening at Mi Madre's, and it's in the form of community.
Mi Madre's is the Austin many locals and old-timers do in fact long for. Before the national press and real estate developers zeroed in, Austin was a funky little city that welcomed an eclectic mix of folks. Some may lambast the change and lament for days gone by. Being a transplant, I can't share the sentiment, per se, but I can understand where it comes from.
But here's the thing: folks like Aurelio are still here. And you can support this part of Austin and take a big bite of the new, namely that shrimp roll at Huckleberry. I pressed Aurelio a bit about his thoughts about the neighborhood changing and moving on. His response? "Why swim against the current?" While I love his outlook, I hate imagining an east side without Mi Madre's.
That's why I'll be at knocking back some tacos and a pitcher of margs at Mi Madre's. It's that part of Austin that I don't want to see fade away. So while you get ready for an exciting chapter of Austin to begin, with MLS teams and Gulf shrimp rolls, take a bite and a sip of what made it special way back when.