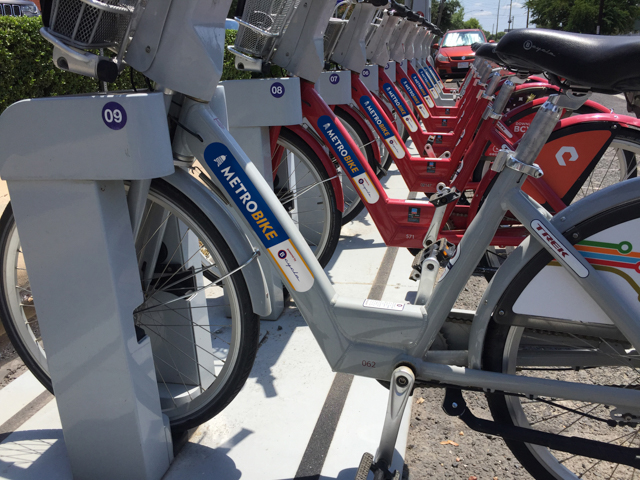 At CapMetro, we're committed to getting you where you need to go, and sometimes a bus or train just can't take you all the way. That's why we're so excited to introduce MetroBike! In a brand new partnership with Austin Transportation Department and Bike Share of Austin, Austin BCycle (the Austin bike rental service you already know and love) is transforming to become a new member of our family of transportation services.
Why bike?
Bikes aren't just an eco-friendly transit alternative, but serve as a great solution for the parts of your trip that fall between bus or train rides. Just visiting? We highly recommend seeing all of Austin's beauty by bike, from street art to natural destinations like Lady Bird Lake.
How to book MetroBike
To ride MetroBike, you will need to download both the CapMetro App and the BCycle App. The two apps offer different pass options to help you select the best ride frequency for your needs. Keep in mind that regardless of your pass type, all MetroBikes must be returned to a bike station dock after 60 minutes to avoid additional fees. Once you've checked your bike in, feel free to check it back out using the app and continue on your adventure!
Learn more about booking a MetroBike here.
More ways to ride
Head to your CapMetro App to purchase one-day or 31-day passes, which can be bundled with CapMetro bus or rail passes to help you navigate each phase of your trip. Use the BCycle App to pay-as-you-ride or purchase a membership for a day, weekend, month or year.
What's next for MetroBike?
This partnership is just the beginning and we already have system improvements on the way. Not only will we be expanding the fleet and number of stations, but we plan to fully electrify the MetroBike fleet. With new stations, we aim to provide access to communities beyond the downtown core.
Where can I find more info about MetroBike?
Head over to our website for details about riding MetroBike along with more information about the partnership with BCycle, Austin Transportation Department and Bike Share of Austin.