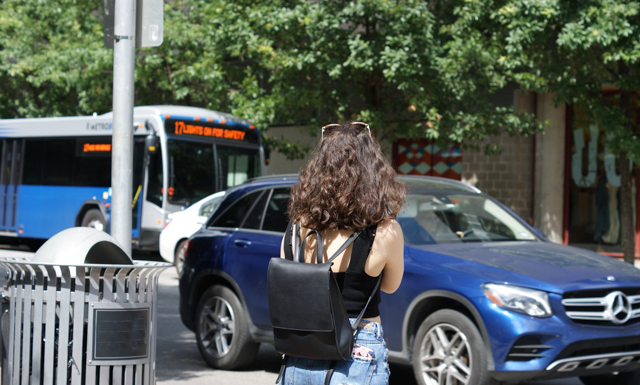 As our community continues to get back on the road during National Safety Month, we want to remind everyone to be safe while driving, walking and riding scooters or bikes. Preliminary estimates from the National Safety Council show that despite Americans staying home and driving less, the emptier roads have become more lethal in comparison to last year. In Texas, the number of roadway deaths in the first 3 months of 2020 increased by 6%. Whether it has been a while since you were outside, or you became used to traveling on emptier roads, follow these safety tips to ensure we all stay safe while traveling.
Drivers: Stay alert and on the lookout for pedestrians, people riding bikes or scooters, and CapMetro vehicles. Please slow down and obey speed limits, respect traffic signs, and avoid distractions.
When you approach railroads, be cautious. Stop, look both ways and listen for a train before crossing. Respect flashing red lights, do not drive around the lowered bar and never stop on the tracks. Remember to also stay alert for buses as they stop for passenger boarding.
Pedestrians and runners: As you exercise or walk outside, pay attention to your surroundings and traffic. Stay alert and make sure you can hear potential warnings from drivers or cyclists over the sound of your favorite song or podcast. If you are going to be in higher traffic areas, consider pausing the music to avoid any distractions. Wear brightly colored clothing to be more visible to vehicle and bus drivers, and always use crosswalks.
Scooter riders and cyclists: Wear a helmet and ride with the flow of traffic. Use bike lanes whenever available, and respect traffic signs and signals. Avoid any distractions such as using your phone or listening to music and podcasts. Stay alert for pedestrians and never use a scooter or bike when impaired.
June is National Safety month and CapMetro is your safe ride for any necessary trips. Stay healthy by practicing good hygiene, covering your face, keeping your distance from others in public and staying home if you feel sick in order to stop the spread of COVID-19. Let's take care of each other and follow all safety tips!