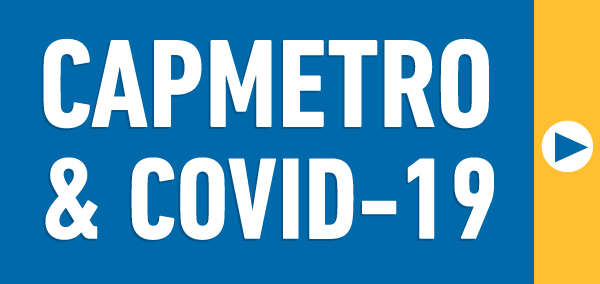 In response to the rapidly evolving situation involving COVID19, Capital Metro continues to implement measures designed to protect our staff, promote public health and ensure that we continue to provide service to all parts of our community.
These measures have included:
All bus operators are provided with a bottle of hand sanitizer and latex gloves. The agency is following guidance from Austin Public Health and the CDC with respect to masks. While operators are not being issued masks to wear while driving, they may do so if they choose.
We enhanced our cleaning operations more than two weeks ago, which included the daily sanitizing of all hand touch surfaces. We will soon increase those cleaning procedures even further, with disinfecting of vehicles taking place throughout the day. To help us achieve this, we've hired 50 part-time cleaners. No experience is needed, and training will be provided. Work will start as early as tomorrow, Tuesday, March 24.
Customers must board their bus through the rear door to protect the health and safety of our bus operators and customers. During this emergency situation, we trust that our customers will continue to respect the agency's fare system.
We have placed "skip a seat" signs on all CapMetro vehicles to encourage customers to leave some space between each other and practice social distancing.
We have developed a new policy that would provide up to three weeks of supplemental sick leave for employees of CapMetro and our contractors. This would apply if the employee or a member of their household is affected by COVID-19.
We're also starting a new CapMetro Family Care team, whose sole purpose is to be an additional resource to answer questions, provide comfort and find solutions for those who are impacted by this crisis.