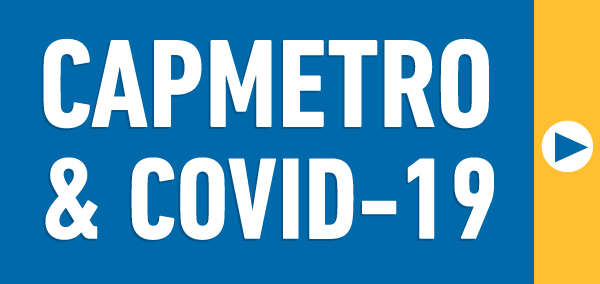 In response to the COVID-19 emergency, CapMetro services will operate a modified schedule, seven days a week beginning Wednesday, March 18.
Service Impacts
Capital Metro will implement changes to its service designed to protect employees, promote public health and ensure that we continue to provide service to all parts of our community.
Capital Metro services, including MetroBus, MetroRapid, MetroExpress and MetroRail will operate on a modified schedule.
You can read about those service changes at CapMetro.org/COVID19.
Customer/Employee Care & Safety
To further ensure customer and bus operator health and safety, we ask that customers board their bus through the rear door. We also ask that they respect the agency's fare system during this emergency situation.
Capital Metro designed these new measures to improve social distancing for our employees and customers, while still providing necessary transit to critical services.
Prevention and Awareness
We are following guidance from Austin Public Health and continue to monitor the situation.
In addition to our daily cleaning procedures for all CapMetro vehicles and transit facilities, we are applying a disinfectant to common hand contact areas, such as poles and handrails, armrests, door handles and stop request buttons.
Later this week, we will install special signs encouraging social distancing on our vehicles.
Along with these efforts, we need your help:
Wash your hands frequently and avoid touching your eyes, nose and mouth with unwashed hands.
Maintain good hygiene.
Limit your non-essential travel as much as possible, especially to locations with many people.
Limiting your contact with others is the best way to stay healthy.
If you think you might be getting sick, please stay home and contact your healthcare provider.
Visit Austin Public Health's information page for up-to-date, detailed information: austintexas.gov/COVID19.