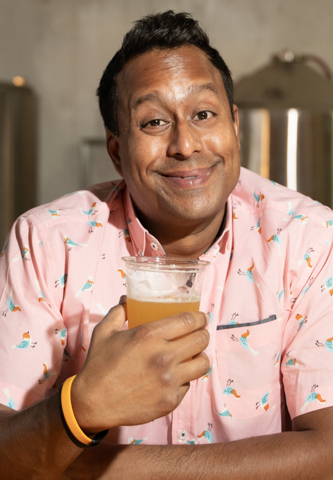 Welcome back to another installment in our Explore Austin series with Food Network's Ali Khan! Ali is checking out notable restaurants around Austin that you can visit using CapMetro as you get back to what you love in our great city. Head to our Trip Planner to get started!
It's Ali Khan again and you're gonna want a stash of wet wipes for this installment of Explore Austin. We are talking about two of Austin's best restaurants for deep fried comfort food today, specifically in the heart of East Austin. Golden brown and delicious eats that stir the soul. When I moved to Austin in 2015, I anticipated a strong serving of soul food to go along with all that BBQ and Mexican food. Yet when I got here, fried chicken wasn't exactly coming out of the faucet like brisket or breakfast tacos.
Then I did some digging. Nothing like a little good old fashioned trial and error until I could come across two fine establishments to get my comfort food fix. Like always we will be featuring an old school Austin restaurant and a new school game changer. Last chance to get those wet wipes.
CapMetro stops near Hoover's Cooking: Dean Keeton/French, Stop ID 1643 on Route 20
The Airport location is now closed, but the location on Manor road is still going strong. Recently they expanded, adding a marketplace that offers some of their popular entrees in a grab and go format, to be reheated at home. My move is to grab a booth and get good and comfy with the Southern Fried Pork Chops.
I ordered the Southern Fried Pork Chops in "Hoover size," which serves up three chops and two sides. The boneless pork loin chops are pounded, breaded and fried. Inside, the meat is juicy and reminds me of some of the better Italian cutlets I've had on the East Coast. The mac and cheese is of the nostalgic variety (no fancy cheese here) and the sweet potatoes? They stick to your ribs. To share this plate among two hungry adults is pretty reasonable. For a mere $20, I can fully endorse this as Cheap Eats approved.
My favorite part about Hoover's was chatting with some regulars. At the completely off hour of 3:30pm on a Thursday, I met two people who were also waiting for the doors to open. The gentleman I spoke with was born and raised in East Austin and could attest to the years of service Hoover's has put into the community. Hoover's is currently inching to 25 years of service but feels like it's been there much longer. If you're looking to eat like a true East Austinite, look no further. Just make sure you eat a light breakfast.
Order Hoover's Cooking online now
CapMetro stops near Bird Bird Biscuit: Manor/Walnut, Stop ID 1640 or Stop ID 1580 on Route 20
I first came to Bird Bird Biscuit when they opened in 2018. I had come off a six month tour of US restaurants (shooting Cheap Eats) which included stops in North Carolina, South Carolina, Georgia, Alabama, Louisiana and of course Texas. Needless to say, I had had a lot of biscuits.
So maybe I was in biscuit burn out when I first tried out Bird Bird Biscuit, because I didn't return till 2019. Or maybe it was destiny because when I returned, I landed on my official order: a slightly tweaked version of the Queen Beak which co-stars some of breakfasts' greatest hits. The results were as game changing as much as my order was gut-busting. I felt like I had come into my own when it came to ordering "right" at Bird Bird Biscuit. Turns out Bird Bird was coming into their own as well.
Bird Bird Biscuit is the creation of Ryan McElroy and Brian Batch, though if you privately ask either one of them, they will credit the other. Ryan started out in the restaurant business with Thunderbird Coffee, an Austin coffee joint whose original location is actually down the street. Brian started working at Thunderbird at 2008, a good 10 years before Bird Bird Biscuit would launch. Clearly, these guys work well together.
Remember when I said Bird Bird was coming into their own? Here's the thing: Bird Bird in 2021 pumping out better food than in 2018. That's not to say that the initial product wasn't good; they started out with a great recipe. It's more a reflection of a philosophy. As Brian put it, "Like a jazz musician playing a standard over and over again," he has improved the biscuits. He credits his dedication to the craft of coffee making. The meticulous nature of making small changes can yield big results. And you're never "finished" – it's a constant work in progress.
Like biscuits, the fried chicken also started out with a strong recipe. And Brian sought to make stronger. "The brine alone is clutch," says Brian. Without giving too much away, Brian also says that the dredge is key as well. Whether its biscuits or chicken, texture is key.
But I can't let them take all the credit. Do yourself a favor and give my order a try: start with the Queen Beak. Add bacon. Add egg. Add cheese. And don't forget the napkins. This biscuit sandwich, which already contains fried chicken, chipotle mayo and honey, can take on a plate of breakfast too. Why? This is a sandwich bearing biscuit. The biscuit holds all that together but still manages to stay fluffy and delicate.
As much as I am won over by something as simple as chicken 'n biscuit becoming the focus for a constant work and progress, Bird Bird Biscuit is more than that. Bird Bird is built out of the relationship of Brian and Ryan to make great things. What started out as a quest to serve up better food to go with coffee is, in fact, one of the better fried chicken experiences in town, putting a new spin on comfort food. But what makes this "Golden Brown and Delicious" story really golden is the friendship and work philosophy of Ryan McElroy and Brian Batch.
Stay Gold fellas. And the rest of you, order the Queen Beak with all the breakfast. It's so worth it.
Order Bird Bird Biscuit online now