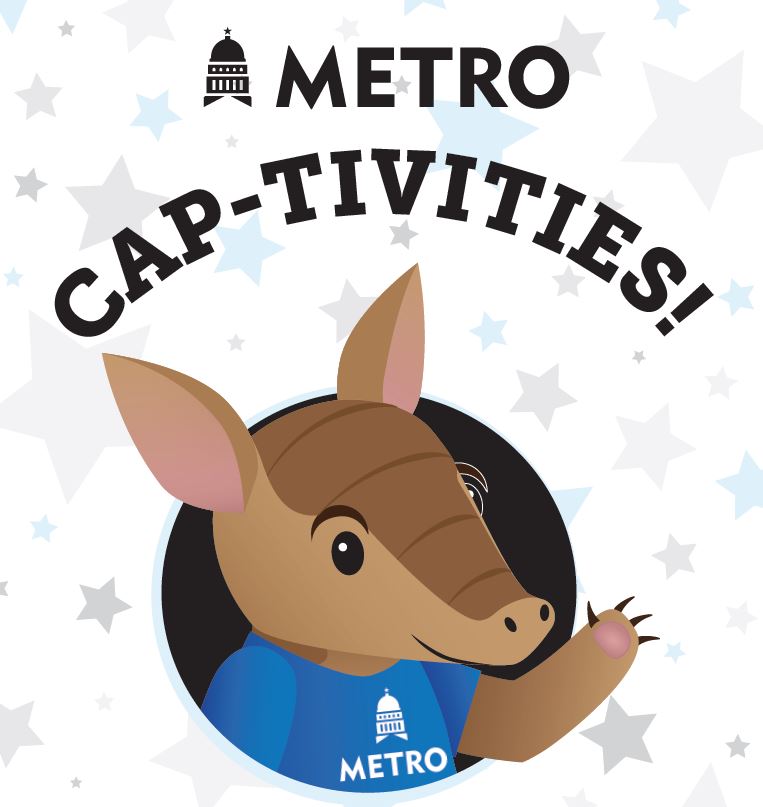 How's everyone doing out there? Hanging in there, we hope. Y'all are doing great, and we need you to keep it up.
But, while so many of us are spending all this extra time at home, we thought we'd put together a fun activity book for your kids … and maybe for you, if you like to have fun.
Inside "Cap-Tivities!" you'll find coloring pages, word searches, mazes and a whole bunch more. You'll get to:
Help your new best friend, Armie Dillo, find his way downtown
Do a Wordoku puzzle or a crossword
Make a paper train conductor's hat
Color in a zen doodle and then make your own
Create a paper doll bus in a desert, topped off by a pith helmet? Absolutely! Why not?
It's gonna be great, we promise.
We just want y'all to know that CapMetro appreciates you and what you're doing by staying home, teaching your kids and supporting our community. We hope this Cap-Tivities book helps you and the kids fill some time and have some fun.
Be sure to let us know what you think, and we'd LOVE LOVE LOVE to see some of the finished products. So, tag us in your posts showing off your work!
Facebook = Capital Metro
Twitter = @CapMetroATX
Instagram = @CapMetroATX