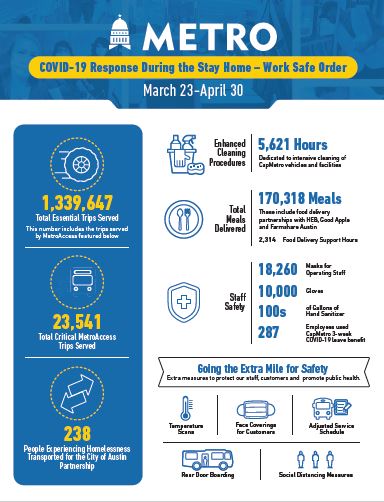 In response to the COVID-19 pandemic, CapMetro has worked around the clock to promote public health and help the Austin community. In the past two months we've implemented several measures to ensure the safety of our staff and customers while riding our vehicles, and we provided support for vulnerable community members in need.
To go the extra mile for safety we: 
Hired 50 part-time cleaners to clean and sanitize buses throughout the day.
Implemented temperature scans at the entrances to our buildings.
Provided face coverings for customers in need of one.
Adjusted our service schedule.
Enforced rear-door boarding to minimize contact between operators and customers.
Encouraged social distancing with "skip-a-seat" signs on our vehicles and sidewalk decals at bus stops and transit facilities.
Meal Deliveries 
We partnered with H-E-B, Good Apple and Farmshare Austin to provide 170,000+ meals to vulnerable members of the Austin community.
Staff Safety and Benefits 
To keep our operating staff safe we provided them with gloves, masks and hand sanitizer and we implemented a three-week supplemental leave in addition to paid time off. This applies to staff members who get sick themselves or for those who have family members who need to be taken care of.
Providing Essential Service
CapMetro provided 1.3 million necessary trips to grocery stores and medical centers for people traveling to work an essential job.
We served critical trips for MetroAccess customers.
Provided service to homeless individuals.
We are so grateful for all of our frontline workers and staff who worked vigorously to serve our community and keep our services safe! We will continue putting the safety of our staff and customers first as we move ahead.