The moment is almost here.
This Saturday night, before scores of cheering onlookers, the 2023 CapMetro Pride bus will make its official debut during Austin's Pride Parade.
The 2022 parade was estimated to draw around half a million spectators and attendees. With no rain in the forecast – albeit toasty temperatures – organizers expect a comparable crowd to descend upon Downtown Austin this year.
This year's Pride bus was designed by CapMetro's Corey Marquart and Megan Sexton. The bus wrap is the latest evolution of one first designed by Marquart for the 2021 Pride parade.
Inspiration for this year's update came from artist Lisa Frank. Frank's designs have been plastered across school supplies, among other things, for decades.
"Our team still loves the Pride wrap that Corey created for us in 2021," Sexton said, "so while we've made changes the past couple of years, we've been keen to preserve some of the key elements of his original design. This year, I wanted to take it a step further by changing the color palette, swapping out some of the primary hues for brighter, more playful versions. I also placed a few little diamonds throughout the piece as a nod to the 2023 Pride theme, Strength in Solidarity."
During her time at CapMetro, Sexton says she's been involved in the creation of more than a dozen bus wraps, eight of which were her design, start to finish. The amount of time each project takes can vary dramatically.
"Sometimes, I'll have a vision in mind that can be executed in just one or two workdays," she said. "More often, I'll start with an idea that twists and morphs into something completely unexpected and I'll have sunk a full 40-hour week into getting every last detail just right."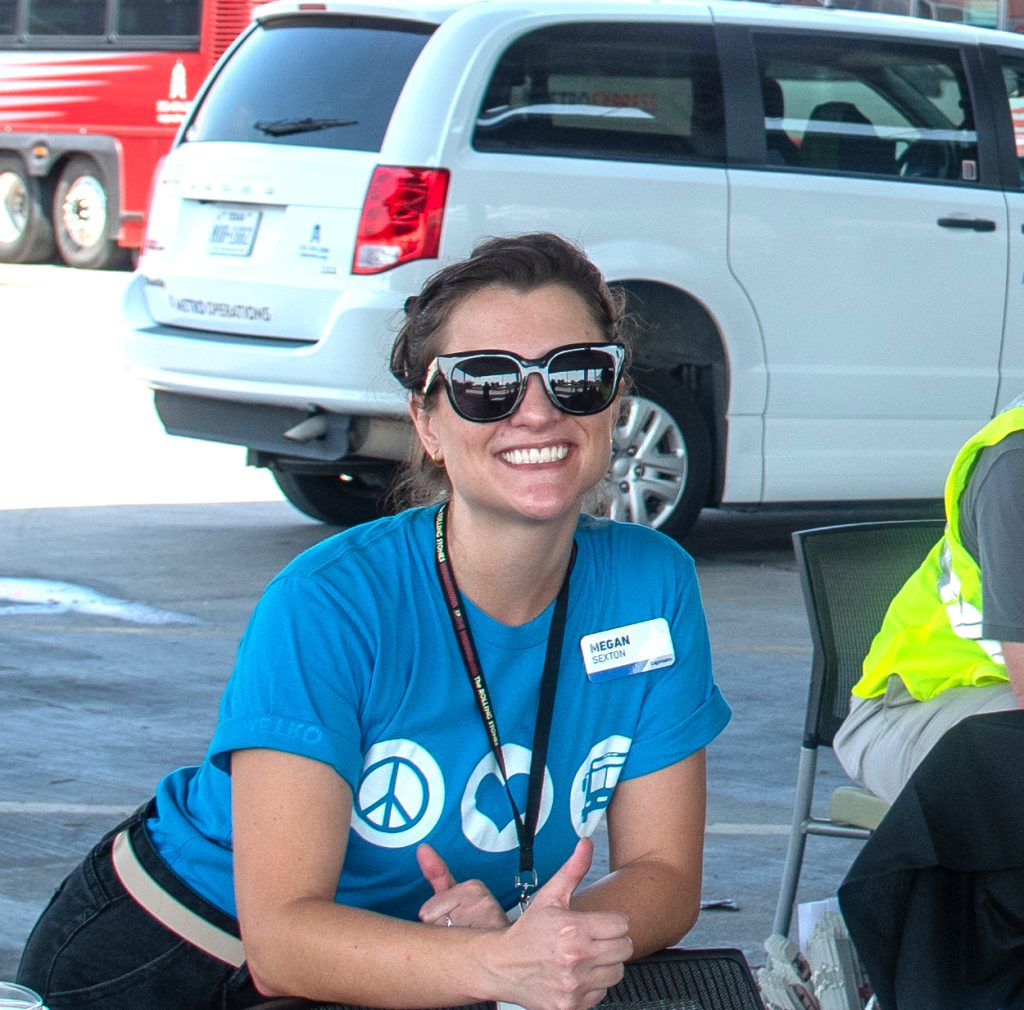 Either way, Sexton says, the designs begin with crude sketches, where key elements are placed with the bus template in mind.
"Seeing a completed bus with my work on it never gets old, regardless of how much of a hand I had in the design," she said. "I feel proud and excited, especially when I see one 'out in the wild.' I'll be alone in my car, pointing and shouting, 'I did that!'
"There is one thorn on this rose though. As a bit of a perfectionist, I'll hyper-fixate on things that weren't in my control. You can't predict exactly what will happen when the design on the little computer screen gets printed on massive sheets of vinyl, which then get adhered to the side of a vehicle like giant rolls of stick-on wallpaper."
Sexton says it's important for CapMetro to create special buses for Pride Month, Hispanic Heritage Month, Women's History Month and other events because it shows the agency is connected to the communities it serves.
"We have these giant billboards that move all around the city," she said, "so why not decorate them in celebration? I think creating an artful and inspired piece is a great way to show the community that we care about them. I'm especially proud of the work we've been doing to collaborate with local artists to design some of these wraps."
Following Saturday night's debut, the Pride bus will run various routes across the CapMetro service area over the next several weeks. When Central Texans spot it, Sexton says she hopes it brings them joy.
"I want people to smile when they see this bus," she said. "I want them to think it's silly. I hope it makes everyone want to eat sweets because it looks like candy."
.