This November you may find yourself walking down the street or sitting outside having coffee and coming upon a strikingly colored wandering mural of epic scale and proportions.
Three towering figures – their long black hair in braids, eyes closed and faces slightly lowered in reflection – are clad in earth-toned dress with accents of vivid blues and sunshine yellow. They hold woven baskets full of corn, beans and squash and appear as though they are descending towards us with these bountiful offerings from the dazzling rays of the glowing orbs behind each of them.
They are the Three Sisters, Las Tres Hermanas in Spanish, or Wahatu Nami in Comanche – the nomadic people who traversed our lands. The artist, Ruben Esquivel, was purposeful in including these three languages in the design to describe the women and the native legend as a nod to the linguistic lineage of our area. The legend presents the women as representations of the three life-sustaining crops that have been so crucial to the Native American community.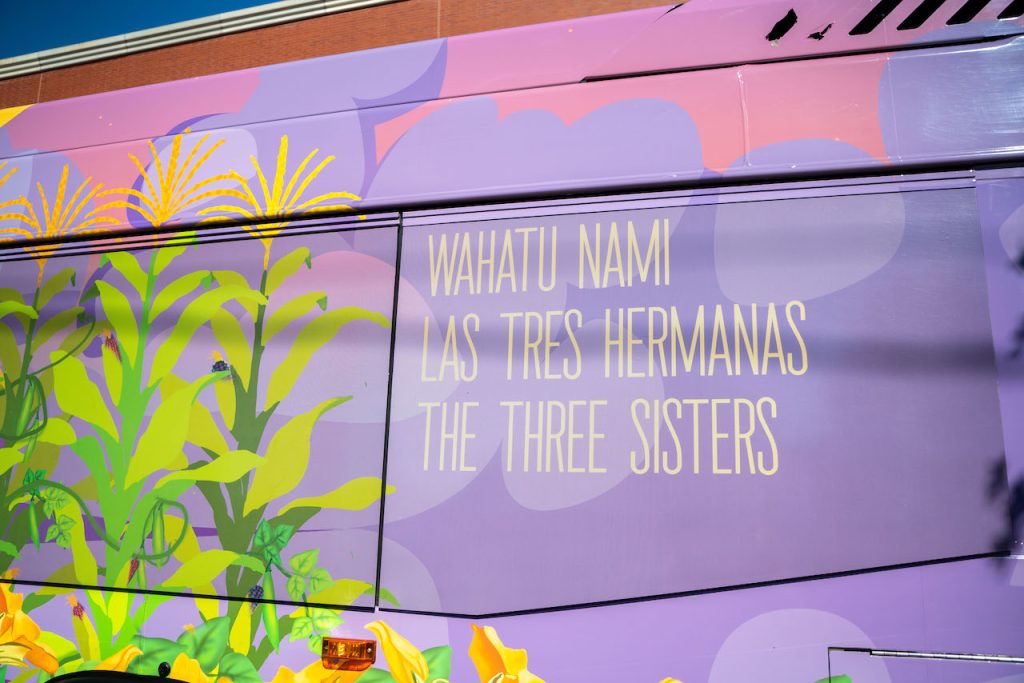 As National Native American Heritage month, November is an important time not only to remember, but to celebrate the cultures and people who were in this space before us. CapMetro's Native American Heritage month bus wrap, made in collaboration with Mas Cultura, gives voice to those cultures and brings them centerstage as awe-inspiring pieces of moving art on our streets.
A muralist, canvas artist and designer of Mexican, Spanish and Native American descent, Ruben – founder of East End Eclectic – was excited to lend his talent to this year's design. He explained how projects like this are crucial as acts of community preservation, and he was even able to learn a bit more about his own Indigenous heritage throughout the design process, each step of which was made with precise intention and thoughtful care.
"I'm very grateful for the opportunity and I learned a lot about my own family history. I always knew that I had indigenous roots but [through this process] I learned that we are Karankawa. There was a lot of self-discovery in the design process and that was a very beautiful thing to experience."
To begin the design, Ruben participated in a roundtable discussion with individuals from the local Indigenous community, where he heard traditional stories, learned more about the importance of the color palette and created profound relationships that would later come to impact his own design in a way he could not have predicted.
Ruben explained that the palette for the design was specifically chosen to be earthy with bright splashes of color to represent both the Indigenous peoples' connection to the Earth and the rich vibrancy of their cultures.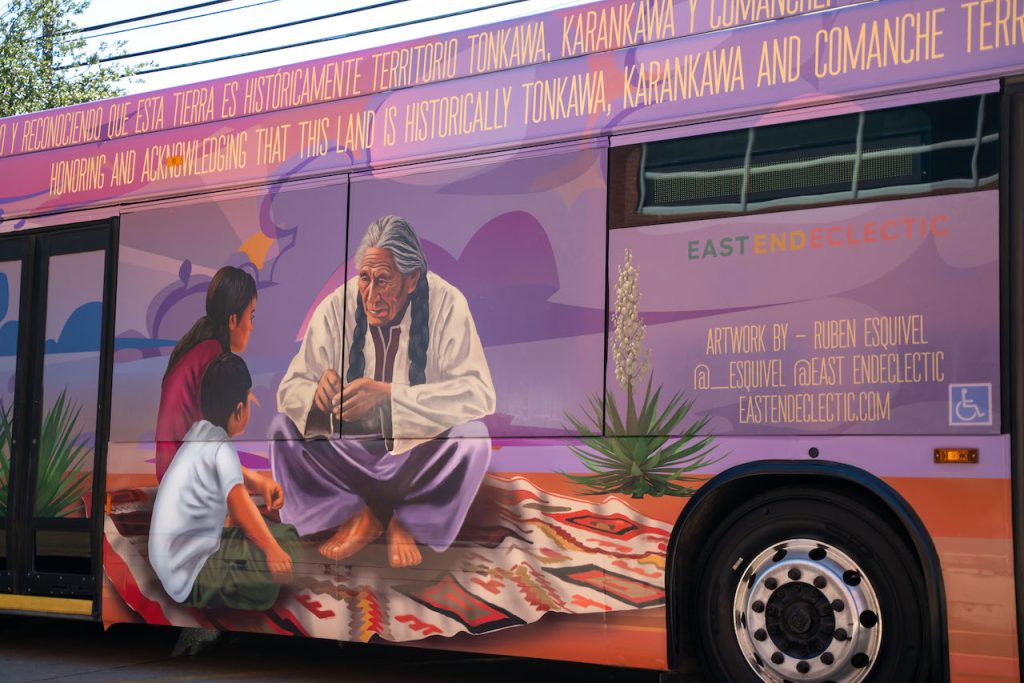 On the opposite side of the ethereal Three Sisters is a poignant scene that centers the importance of older generations in the community, as two young children can be seen sitting next to an elder who is sharing a story. Ruben describes this as a depiction of, "the passing of knowledge and customs from elders to the next generation."
But maybe one of the most moving details in the design is a stoic dancer dressed in full traditional pieces. She stands firm and with purpose, her eyes set far into the distance, or perhaps lovingly watching over the scene of the elder with the two children. The powerful warmth of a bright sun glows behind her on the horizon.
She is a tribute to the life of recently deceased world champion dancer, Dawn Rene Decora Hawk, sister to Lakota Harden, who Ruben became close with through the community roundtable discussions. Her story was shared with pride and love as a testament to the continued life of the Indigenous communities that are very much still present with us today. Later, when Ruben found out about her passing, he immediately decided to honor her image and legacy in the design as a tangible representative of the local Indigenous community.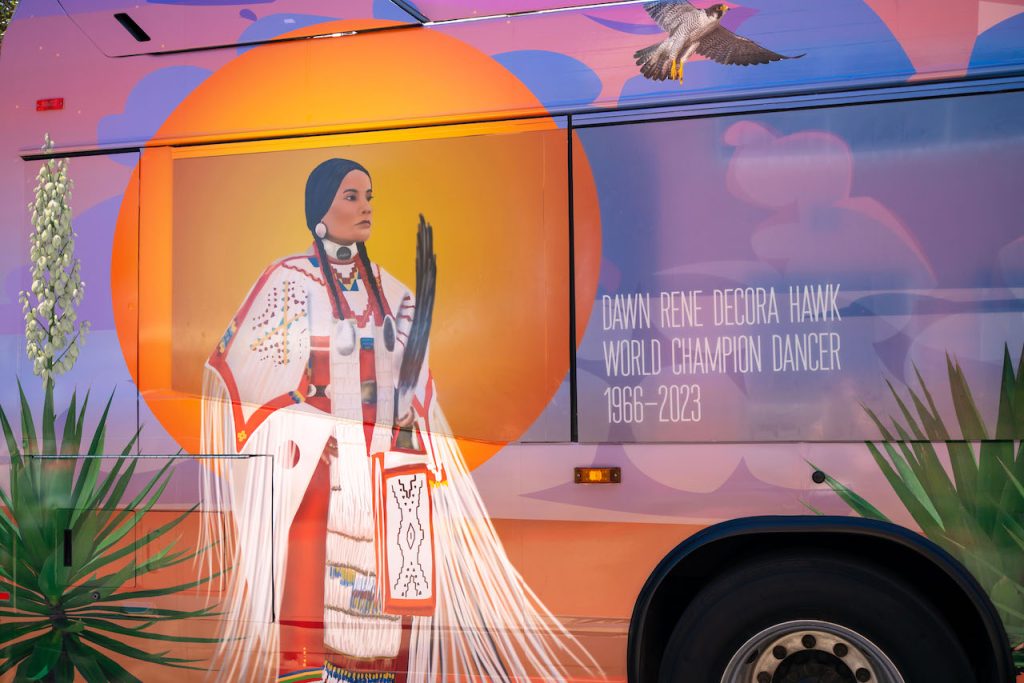 Much like the bus wrap design, Ruben's other work centers voices who may have been silenced in the past. His murals are large and loud, but they are also placed where people can just view them by accident. He explains that he's drawn to large scale public pieces like these because he has always wanted to do work that is meaningful to the community.
"These larger-than-life pieces demand your attention. The beauty of public artwork is that you might not even be looking for it, but you stumble upon this beautiful piece of work that tells you about the community you're in. It shares its story in a way that's welcoming, and that people can relate to. It also beautifies the community."
Ruben's favorite medium to work in is paint, saying that there's nothing like the powerful feeling that comes from the physically demanding work of creating a grand image on a wall. But the way he went about designing this bus wrap was a little different.
The bus wrap design is all digital, but it was made "stroke by stroke" in photoshop like a digital painting. Ruben explains: "Nothing was color-filled or made in gradients, it was all done by hand, very similar to a painting. Because it was such a large format, I used photoshop like a digital canvas with the brush tool."
Ruben said he wants people to experience a "warm and fuzzy feeling" when they see his designs on the bus.
"I want people to feel inspired and have the desire to learn more, to enjoy the beauty and feel a sense of happiness. And to also realize there is a connection with cultures that used to be here and still are here. This is a reminder that these are the people that navigated this space before us."
The bus wrap design was celebrated in a very special unveiling ceremony on November 1st that was open to the public. It included remarks from the artist and traditional performances from the local Native American community.