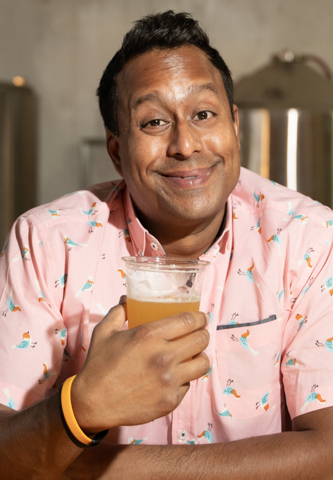 Welcome back to another installment in our Explore Austin series with Food Network's Ali Khan! Ali is checking out notable restaurants around Austin that you can visit using CapMetro as you get back to what you love in our great city. Head to our Trip Planner to get started!
The current Explore Austin: Takeout Edition! I've got two spots, Asiana Indian Cuisine and Julie's Noodles that absolutely rock for takeout. So if dining out isn't an option for you, call it in to-go and head over to Julie's or Asiana — both accessible by CapMetro.
CapMetro stops near Asiana: William Canon/Circle S, Stop ID 552 on Route 333, Route 486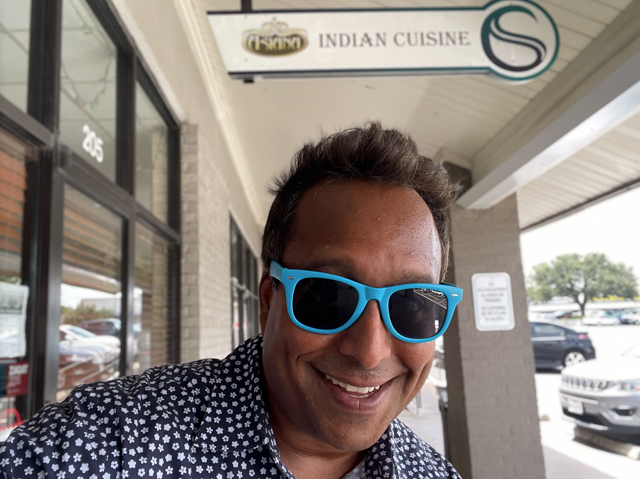 Being of South Asian descent, I take my curries, rice and naan pretty seriously. And seriously, the Indian food scene in Austin is not exactly stacked like it is for barbecue or breakfast tacos. Still there are a few places that do more than scratch the itch.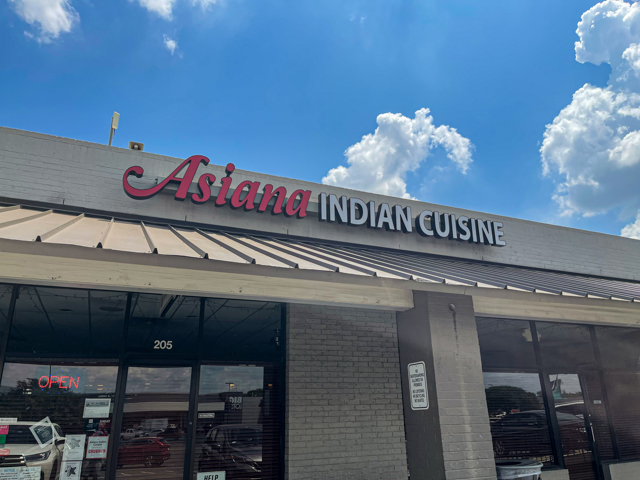 Asiana is located off William Canon and Interstate 35. This place has been on my radar for a minute with good references from foodies in the know, and folks in the South Asian community. At first glance you'll see the typical popular North Indian fare like Chicken Tikka Masala and the omnipresent lunchtime buffet (currently closed due to Covid-19). But the menu is deep.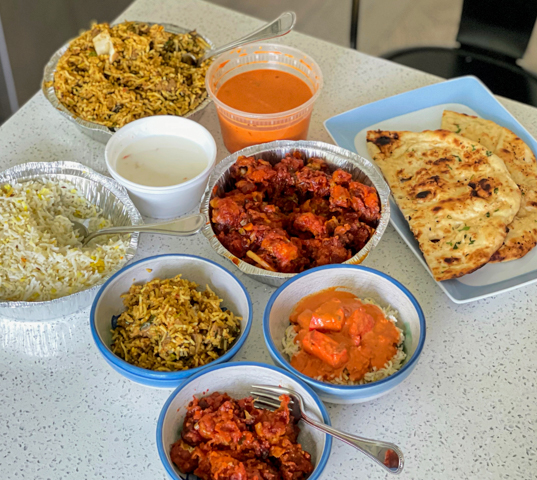 How deep? Let's just say this is what I ordered for lunch. Yeah, that's pretty deep. Of course, I wanted to get a range of dishes to appeal to a broad base, so I ordered big. First up was an item off the Indo-Chinese menu: Gobi Manchurian.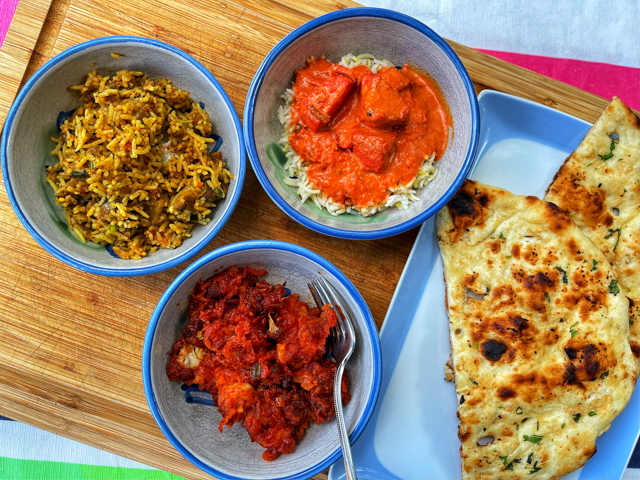 Like the name implies, this dish is Indian Chinese fusion but this isn't some food truck fad. The proximity of these countries to each other means this fusion was inevitable. Asiana's Gobi Manchurian features batter fried cauliflower sauteed with garlic and ginger, tossed in a sticky sweet sauce. This dish looks and bears some similarity texture wise to Orange Chicken or General Tso's Chicken, though the aromatic bouquet of Indian spices takes your palate well south of the Himalayas. Oddly reminiscent of Buffalo Cauliflower bites your vegan friend demanded you try, the cauliflower stands up well to a good fry and a flavorful sauce. This is a must order dish! When I scooped it up with a piece of garlic naan, I was thinking this might be one of my top bites of 2021.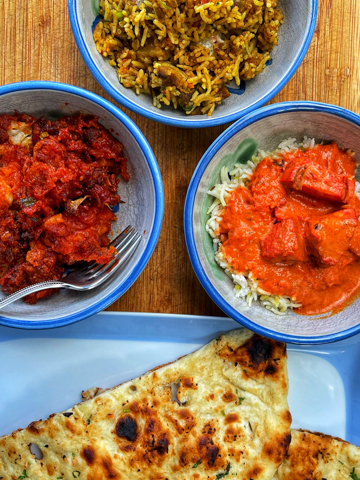 The bowl on the right should be familiar enough, even to the novice Indian restaurant goer. If you were to guess this dish as either Chicken Tikka Masala or Butter Chicken, you're close! This in fact is Asiana's Butter Chicken—a dish I often make at home. Butter Chicken is a ubiquitous Indian restaurant staple and while many South Asians like myself can claim it as less than authentic (the dish is more an invention for British colonizers) you wouldn't be hard-pressed to find more than a few Desis who love the dish regardless.
For the record, Asiana uses chicken tikka: yogurt marinated cubes of chicken that are cooked in a Tandoor oven. The Tikka is then tossed in this creamy tomato sauce that is perfumed with Garam Masala and the like. I'd be lying if I didn't prefer my home version, but I have to say the chicken in here is remarkably tender. No easy feat as chicken breast, while popular, is often overcooked, yielding chewy and dry meat.
Sitting at the top of the picture is Goat Biriyani. Biryani is the Paella of South Asian cooking, very popular in India, Pakistan and Bangladesh. The aromatic savory rice dish is a culinary cornerstone of weddings and religious festivals. It's flat out special and not easy to make, let alone make well.
I chose goat because of all the biriyani's listed, this one came with a warning: "contains bones". That is how you know it's legit. If you're lucky like I was, you'll get a piece of bone with marrow you can slurp out. Long before bone marrow became an "it" dish at en vogue restaurants, we South Asians were slurping up marrow like there was no tomorrow.
Asiana lived up to the hype, and to my hopes that there is indeed a solid Indian restaurant in Austin. Really good Indian restaurants in Austin are few and far between, but when South Asians find them, they stick with them. One customer I met drives 30 miles from Steiner Ranch just for the Goat Curry. He is also from Dehli. That's serious loyalty from the community, folks!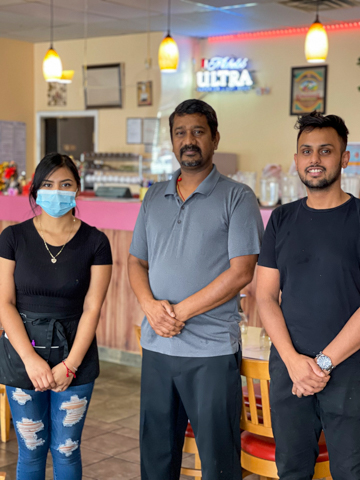 So who is responsible for all this? Pandiyan Kaliyamoorthy, who is originally from the state of Tamil in India, has been in the restaurant game for 15+ years and he still has customers from his previous restaurant in Round Rock coming to eat at Asiana. Yup, Asiana has its fanboys and girls and now I'm one of them.
Pandiyan has been an Austinite for a few years now. Since we're deep in the pandemic and ordering takeout more than ever, I asked Pandiyan what his fav carryout meal is in town. He replied "the black bean burrito at Chuy's". I instantly smiled. Not because of his order—Pandiyan is a vegetarian and black bean burritos are kinda the pinnacle of vegetarian Mexican next to chile relleno—but because in that instance I realized that the man who made me some legit Goat Biriyani is a fellow Austinite who I could run into at Chuy's. Austin may not have the deep Indian restaurant game that Houston or Chicago does, but we got a few special ones and that can be just enough.
CapMetro stops near Julie's Noodles: Ohlen/Research, Stop ID 3125 on Route 324
Before moving to Austin some 6 years ago, I spent 20 years in Los Angeles where I developed a deep love for Dim Sum. Julie's Noodles isn't a proper Dim Sum restaurant with carts that are wheeled around the dining room, but they do offer a respectable Xiao Long Bao, or soup dumpling, that has become synonymous with a dim sum craving and a staple at the House of Khan.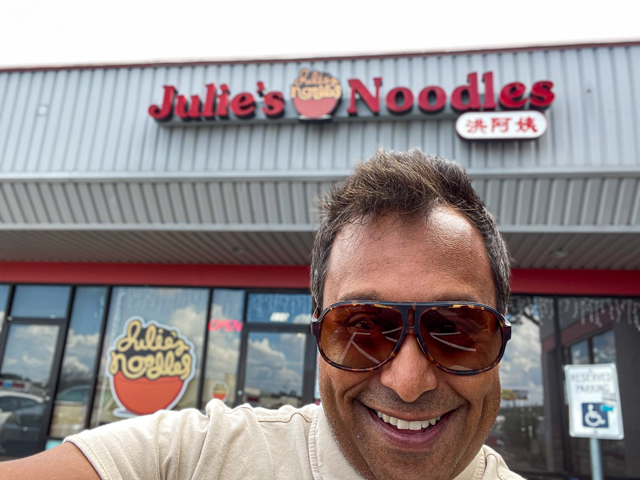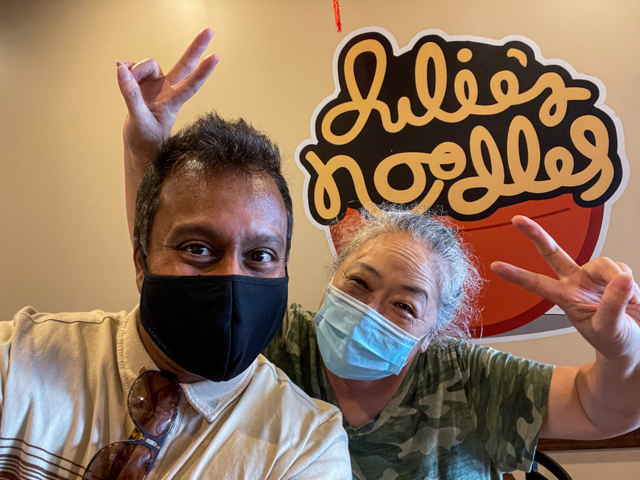 Originally a food truck parked by UT, Julie Hong, the restaurant's namesake, opened the brick and mortar in 2016 in North Austin. Julie's Noodles developed a loyal customer base with noodle soups and handmade dumplings. The latter were actually requested by the UT fan base. Turns out the kids were on to something.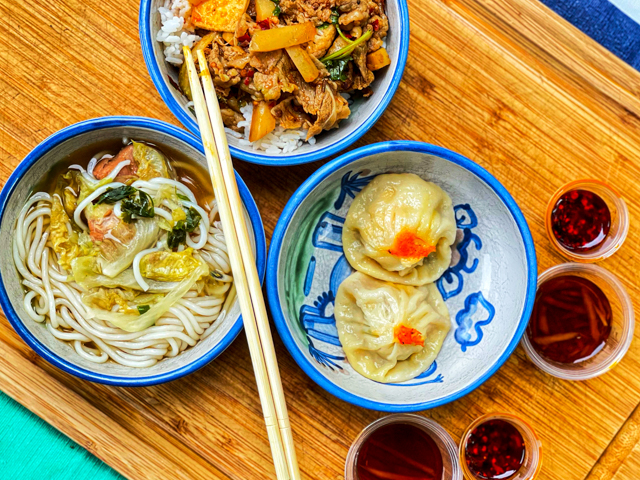 Julie's Soup Dumplings have a thick exterior so you might need a little effort when you pierce the dumpling to release the broth inside. Pros know that releasing some of the broth will keep you from burning your mouth and allow some of that soy sauce, black vinegar and chili oil to intermingle.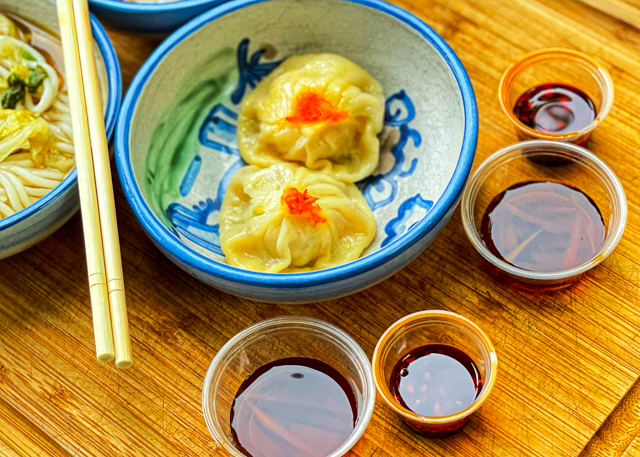 In case you're wondering, soup dumplings are a delicacy from Shanghai where gelatinized broth (aspic) is folded in with a meat filling, in this case crab and pork. The dumpling is then steamed, turning the aspic to liquid gold. By now you can see what this food has such devoted following.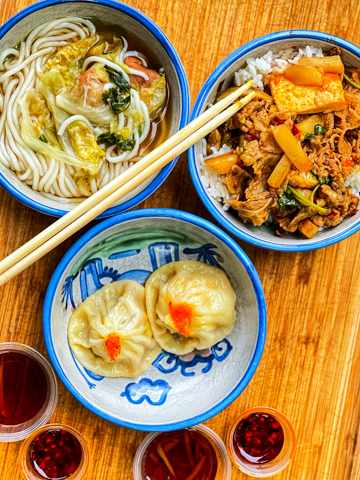 My son absolutely loves the Chopped Pork Noodle Soup. In what clearly is a portion meant to be shared, he can demolish at least half and almost all the noodles. He is also 9 years old and believe it or not, can at times be a picky eater.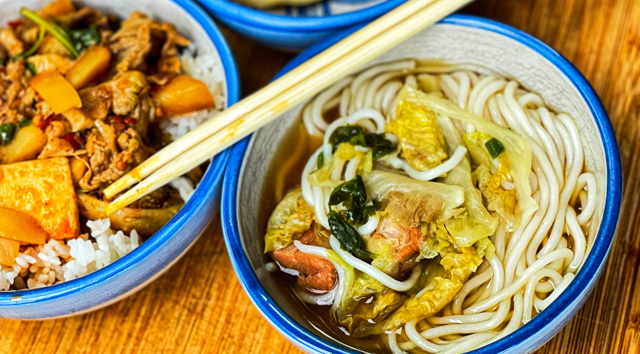 My son's love for the soup just might be tied to its pure simplicity. Pork broth fortified by chopped spareribs add protein and flavor. Noodles might be the most universal food man has ever created. And just enough cabbage to sneak in some vibrancy along with nutrients, but we don't need to tell my son that.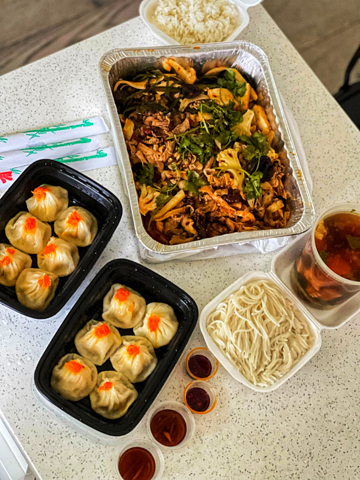 This dish was recommended by Johnny Xing, Julie's grandson. The spicy hot pot features beef and tripe (my personal customization but you can go for one or the other) along with boiled vegetables that are fried and cooked with a special sauce whose recipe is a mutual creation of Johnny's Dad and Julie. When I asked about a signature dish, this is what he suggested.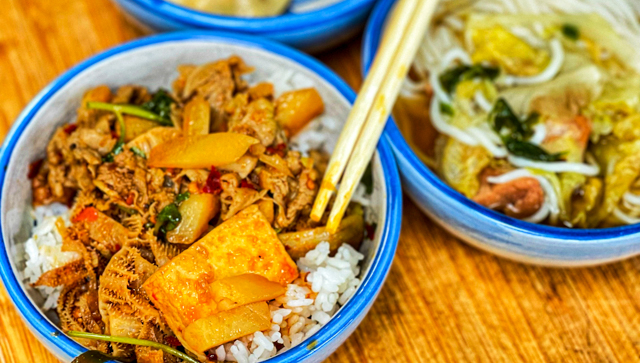 I went into my adventurous mode and ordered the Tripe Spicy Beef Hot Pot. Cow stomach is a delicacy in many food cultures and the Chinese are no different. Thinly sliced beef and tender tripe soak up a mouth numbing Szechuan peppercorn sauce. Wood ear mushrooms, tofu, cabbage leaves are just a few of the tender vegetables that are paired with the savory meats. Not only am I hooked on spicy hot pot, but I have leftovers for days. The $27 entrée (usually $22 but I did beef + tripe) looks more like a catering order – easily enough for 6-8 servings.
Julie's has been a takeout go-to of mine for three years strong. Reasonable prices plus my son's near weekly cravings make a stop at Julie's a no-brainer. This food travels very well too. In a life where I seldom eat the same meal twice, I eat at Julie's all the time. In fact, being a pandemic takeout story, I asked Johnny where he likes to get takeout. His answer? Julie's Noodles. And there you have it.