September 27, 2023
by admin
By Blythe Nebeker
The Equitable Transit-Oriented Development (ETOD) Study, released this week, is the culmination of a multi-year effort to establish a framework for the equitable development of Austin's growing transit network.
As Project Connect is moving forward with Phase 1 Austin Light Rail development, CapMetro and the City of Austin (COA) have been working to ensure that the benefits of this incredible investment flow equitably across our local community. The ETOD Study provides an overview of the progress we have made and the lessons we have learned – it tells the story of how we got here and what we're doing next.
Transit and housing
We know that housing and transit go hand in hand. A new, robust transit hub is an incredible amenity that attracts residents who want to live nearby. The increase in people's desire to live there makes it a competitive rental market. In other words, it drives up rent prices and the area becomes increasingly expensive. Existing residents might not be able to afford the new housing prices, so they move further and further out. The turnover transforms the neighborhoods and while the new residents benefit, the previous residents are unable to reap the benefits of the new transit. This is how the story has gone across the country for years, including here in Austin.
We think the story could go differently.
What We're Doing
Project Connect will create a new light rail system, more CapMetro Rapid lines, as well as an improved commuter rail service for the Red Line and a new Green Line. It's a massive program of projects that voters approved in 2020.
We knew we needed a framework to guide future development around these high-capacity stations to ensure those who have the greatest need for the transit enhancements – including people with disabilities, people of color, the elderly and people from low-income households – can directly access the new, high-quality transportation options and surrounding development.
CapMetro has worked in close partnership with the City of Austin, the Austin Transit Partnership (ATP), the Community Advisory Committee (CAC) and a team of compensated community members known as Community Connectors to develop a framework for our transit investments, not only to avoid displacing residents but to ensure they have a say in what those investments actually look like.
Each group plays an essential role in advancing ETOD in Austin. Without any of these partners, neither planning nor implementation would be possible.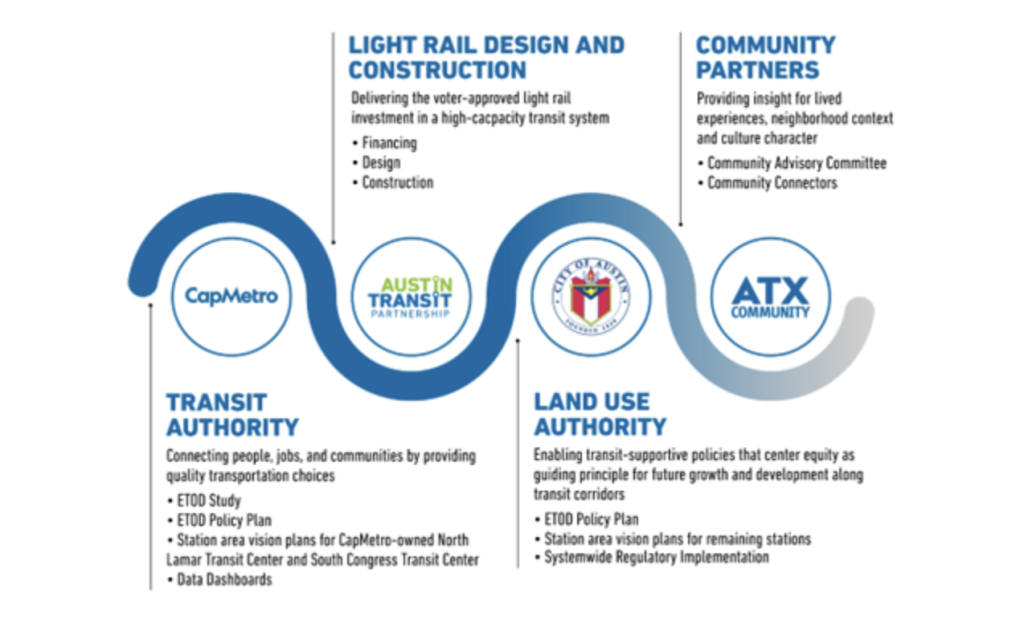 The recently released ETOD Study was funded by the Federal Transit Administration (FTA), which awarded CapMetro $3.15 million across four grants and two administrations through their TOD Pilot Program. Each grant focused on different segments of Project Connect and our development expansion.
The Study produced the ETOD Policy Plan, which is a citywide guide that helps focus planning, programming and investment to ensure that future development around the Project Connect transit system supports residents of all incomes and backgrounds. The Austin City Council accepted the ETOD Policy Plan by resolution at their meeting on March 9, 2023, formalizing it as a guideway for all ETOD work moving forward. Included in the Policy Plan are a Policy Toolkit, which is a set of 46 expandable policy tools tailored to station area needs, an Existing Conditions analysis, and the ETOD Priority Tool. These tools help CapMetro and its partners make sense of what investments are needed where, who should lead them, and how to prioritize them.
At every step, our approach is guided by our six overarching goals, which were co-developed with project partners and City Council and were heavily informed by robust community engagement:
∙ Goal 1: Enable all residents to benefit from safe, sustainable and accessible transportation
∙ Goal 2: Help to close racial health and wealth gaps
∙ Goal 3: Preserve and increase housing opportunities that are affordable and attainable
∙ Goal 4: Expand access to high-quality Jobs & Career Opportunities
∙ Goal 5: Support healthy neighborhoods that meet daily needs
∙ Goal 6: Expand Austin's diverse cultural heritage and small, BIPOC (Black, Indigenous, People of Color)-owned and legacy businesses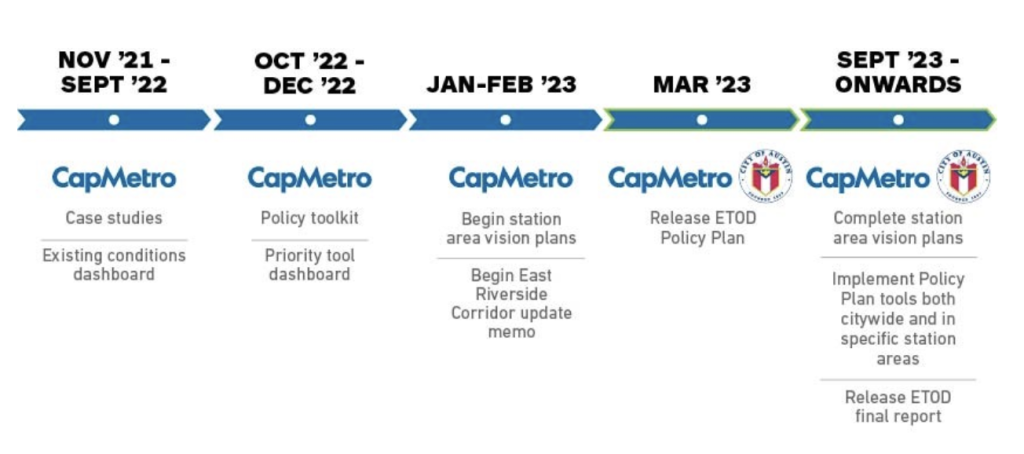 Looking ahead
With the release of the ETOD Study, CapMetro is focused on implementation. We will be working with residents through workshops, focus groups, surveys and more to prepare neighborhood plans for two CapMetro-owned properties. The two vision plans are due to be completed by 2024.
CapMetro will also continue to coordinate with the Austin Transit Partnership in their efforts to develop light rail, and with the City of Austin as they move to implement systemwide regulatory changes required for equitable transit-oriented development.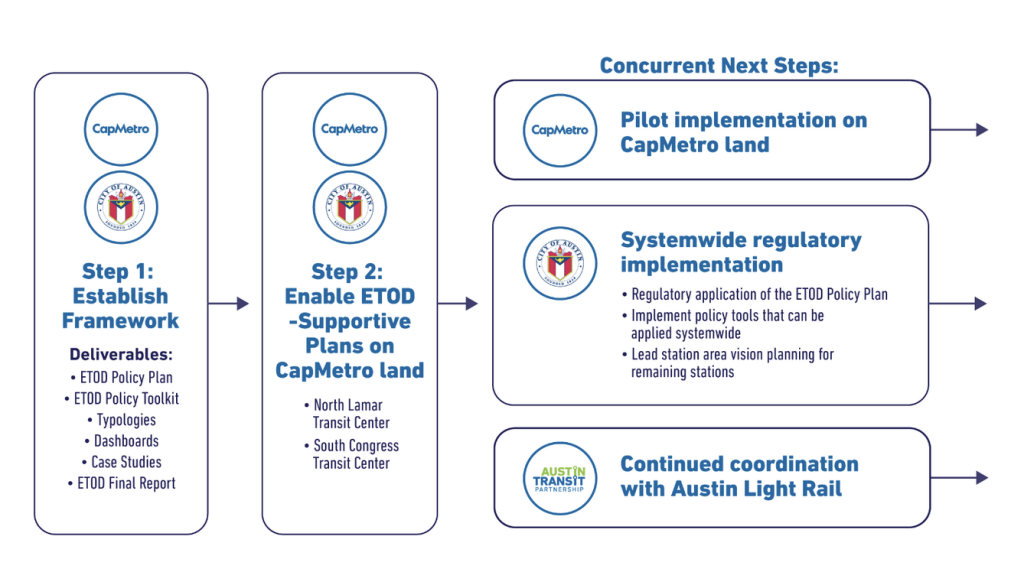 Ultimately, ETOD is about building equitable outcomes through proactive actions, while also holding space for honest conversations about trade-offs. It's necessary to help a community grow, while also addressing how transit infrastructure intersects with systemic racism, housing affordability, small business interests, economic opportunity, education and health. The City of Austin is experiencing explosive growth and that's no secret, but we must make sure that as our public transit system grows, we help our city build future development in a way that's equitable and considerate of all walks of life.
Words from our leaders
"This is a significant milestone, not just for CapMetro, but for the entire City of Austin," said Sharmila Mukherjee, CapMetro's Executive Vice President, Chief Strategic Planning and Development Officer. "As we continue to grow and thrive as a community, we need to ensure that we are building an inclusive city that lifts and supports all Austinites; serves our customers with different needs; of diverse backgrounds and all income levels and bring them along in this journey. These policies and subsequent report will help us be more intentional about the development around our city and our stations, minimize displacement and help combat our affordability crisis."
Mukherjee added, "This report is the culmination of nearly two years' worth of work done by CapMetro, ATP, the City of Austin and our consultants, who led the technical analysis. But it also could not have been done without the community who were a crucial part of this process. Getting feedback from our community was more than just 'ticking a box' for us, they helped us develop this policy framework right along with us to ensure we were building a better future for Central Texas."
"The City is excited about the release of CapMetro's ETOD report. It highlights the great work and close partnership we have built to help deliver equitable transit-oriented development to Austinites," said Planning Director Lauren Middleton-Pratt. "Project Connect is a once-in-a-generation chance for Austin to leverage the energy of our community to tackle the affordability and mobility crises facing the region. Bringing together the collective power of great transit and tightly connected, mixed-income neighborhoods can change Austin for the better while enhancing the lives of those whose roots were planted here long ago."
"The Austin Transit Partnership, the lead organization implementing Austin Light Rail and overseeing Project Connect implementation, has been coordinating with partners City of Austin and CapMetro on equitable transit-oriented development policy progress," said Jennifer Pyne, ATP's Executive Vice President of Planning, Community and Federal Programs. "We will continue to work together to ensure these critical ETOD policies successfully integrate into the overall plans for Austin Light Rail so that this generational investment serves the needs of all Austinites."