As part of CapMetro's continuing commitment to transparency, today we rolled out a new and improved performance dashboard with access to a trove of useful data to help you better understand how our organization operates.
Additionally, the performance dashboard is more digitally accessible than ever before to make the information more usable and accessible to all members in the community, including those with disabilities.
Much of the information visible in today's release had been previously available on our existing dashboard, but the latest version helps make things even easier to understand and dissect. The team behind this effort has spent months and months on the project and we're excited to share the results of all that effort with everyone.
You can access ridership data systemwide, as well as ridership by route. Details on reliability – on-time performance – are also at your fingertips. Head on over and you'll see, for example, our total boardings over the past 12 months has been an impressive 21.2 million.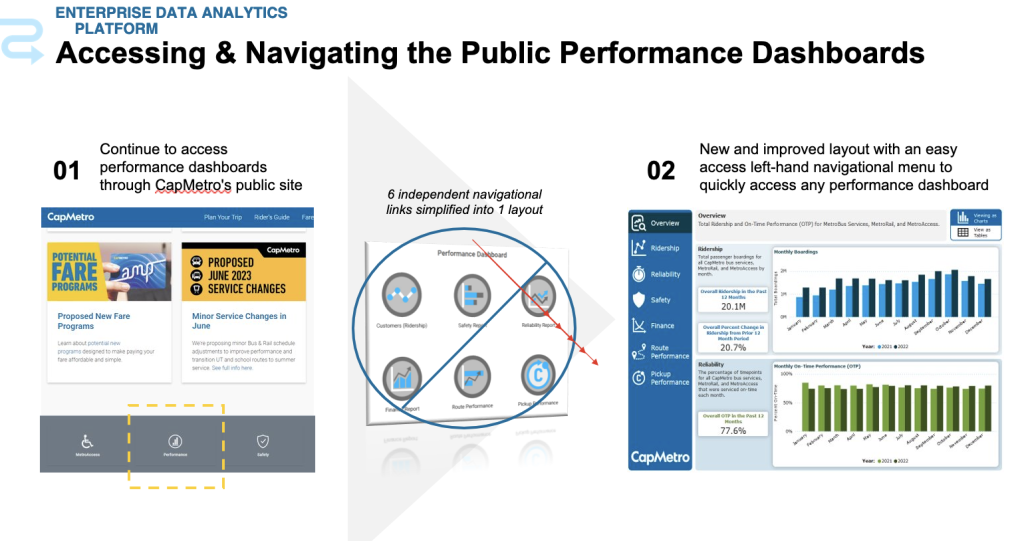 There's also information on how often our vehicles have mechanical failures, which can disrupt your trip and affect the customer experience.
We're not stopping here. Throughout 2023, we will continue to refine our new dashboard, adding in more and more data. Future phases will include enhanced details on finances and public safety aboard our buses and trains.