For Dottie Watkins, it's beginning to feel a lot like Christmas.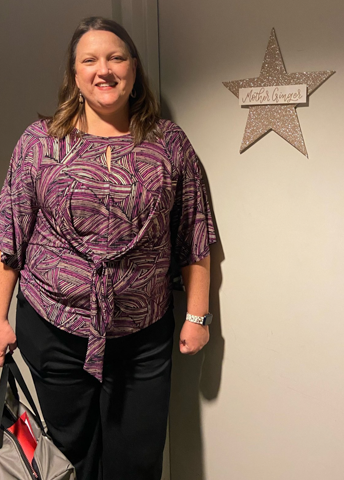 CapMetro's interim President and CEO served as Mother Ginger during the Friday, Dec. 2 Night of Community performance of "The Nutcracker," which offered clients served by a variety of local social service agencies a chance to see the beloved holiday classic.
During each performance of "The Nutcracker," a well-known Central Texan is selected to serve as Mother Ginger, delighting audiences and guaranteeing that no two shows are alike. This is Ballet Austin's 60th anniversary of performing "The Nutcracker."
"The beloved role of Mother Ginger is one that many of us look forward to every season," artistic director Stephen Mills said. "When a celebrity Mother Ginger appears in the second act, it's a way for us to celebrate the great work that these community members have done for our city. It's also a special moment when the community becomes part of the production."
A lifelong Austinite who is a graduate of McCallum High School, the University of Texas and St. Edward's University, Watkins said the night was one to remember. She was especially proud her daughter could be there to watch the performance.
"Wow! Still on Cloud 9," she wrote on Twitter shortly after the show wrapped up. "It was truly a magical evening. Thanks to Ballet Austin for inviting me to take the stage with such a talented group of folks and thanks to my CapMetro family for all the support! Extra special for my daughter to see Mama on the big stage."
After a short break this week, "The Nutcracker" resumes Friday night, Dec. 9. The show runs through Dec. 23 at the Long Center, 701 W. Riverside Drive. For tickets, visit the Ballet Austin website. And don't forget to map out your trip to the Long Center aboard CapMetro by heading to our Trip Planner.
---
The Nutcracker' schedule
Friday, Dec. 9: 7:30
Saturday, Dec. 10: 2p and 7:30p
Sunday, Dec. 11: 2p
Friday, Dec. 16: 7:30p
Saturday, Dec. 17: 2p and 7:30p
Sunday, Dec. 18: 2p
Tuesday, Dec. 20: 7:30p
Wednesday, Dec. 21: 7:30p
Thursday, Dec. 22: 2p
Friday, Dec. 23: 2p