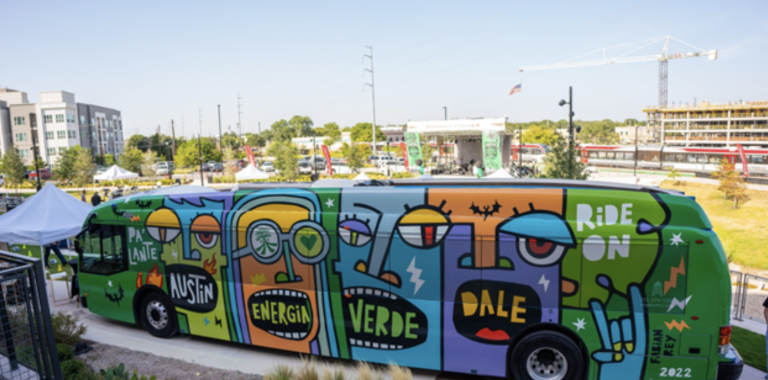 CapMetro's continuing commitment to conservation has been recognized with a statewide award.
The agency learned this week it was named a Texan by Nature 20 (TxN 20) recipient, joining 19 other Lone Star State businesses cited as the best of the best when it comes to protecting the environment.
Other recognizable names on the 2022 list are a handful of Austin-based firms, including tech giant Cirrus Logic and Yeti, maker of trendy coolers, thermoses, koozies and more. See the full list here.
The TxN 20 list first debuted in 2019, with a focus on 12 industries. CapMetro is being honored in the midsize Transportation category.
"Sustainability is central to the mission of CapMetro and is reflected as a core value," said Dottie Watkins, interim CapMetro president and CEO. "Sustainability is built into our commitment to the region and the community of Central Texas as a guiding principle of Project Connect. Some of the objectives include building an all-electric fleet, using renewables like solar and wind as major sources of energy, and using the most advanced systems to reduce water use and waste in all operations."
The CapMetro board and members of the Executive Management Team lead the sustainability charge, which filters down to employees throughout the organization.
CapMetro has focused in recent years on acquiring vehicles with multiple features to help further conservation and sustainability efforts:
Zero-emission CapMetroBuses
North Operations Center can currently accommodate 180 electric buses
Currently 12 electric buses in service; 200 more on the way in the next four years
CapMetroBikes
System improved and expanded
Bike racks on each CapMetroBus; bike hooks on CapMetroRail
Transit facilities connected to bike trails
Gold rating from League of American Cyclists Bicycle Friendly Business since 2016
Zero-emission CapMetro fleet vehicles
Electric fleet vehicles for operations staff, including several Nissan Leafs, with more on the way
"This recognition by TxN validates that we are on track and leading the industry in sustainable and operational practices that truly make a difference," said Rob Borowski, CapMetro's sustainability officer. "TxN brings together people and organizations of all types to implement real solutions – making this recognition even more powerful. It is both an honor to be selected, and a challenge to us to keep innovating."
---
>> READ: CapMetro's Sustainability Vision Plan
---
Examples of long-term conservation methods undertaken by CapMetro include:
Greenhouse gas emissions: Carbon neutral by 2040, consistent with the City of Austin Climate Equity Plan.
Zero waste: 90 percent reduction of waste to landfills by 2040, consistent with the City of Austin Zero Waste Strategic Plan.
Water and nature: Sustainably manage water resources and enhance nature and natural systems through conservation and green infrastructure.
Sustainable buildings and infrastructure: Use sustainable design guidelines and rating systems (Envision, Austin Energy Green Building, LEED) to guide all capital projects.
Equity and livable communities: Leverage transit resources to enhance sustainability, connectivity and access to opportunities; and create livable places, especially in historically disinvested communities.
Short-term objectives are embedded in CapMetro operations and projects through these action areas:
Energy: Reduce the energy used in our current facilities and operations through a comprehensive energy management program. Renewable energy is the first choice.
Sustainable and zero-emission fleet: Transition all revenue and non-revenue fleets to zero-emission.
Water and natural world: Assess all assets and properties for opportunities to conserve, restore and enhance natural areas, improve biodiversity, increase native plants and protect watersheds and water resources.
Zero waste and natural resource management: Manage operations to reduce the amount of waste generated and prioritize options, such as surplus using, repurposing, asset management, organics management and recycling.
Green buildings and infrastructure: Design all new buildings and capital projects to prioritize the highest practical environmental and sustainability performance and to support net zero carbon goals within the established timeframes.
Environmental and sustainability management: Reestablish and implement an Environmental and Sustainability Management System (ESMS) that supports our goals to reduce climate footprint, reduce environmental impact and improve facility resiliency.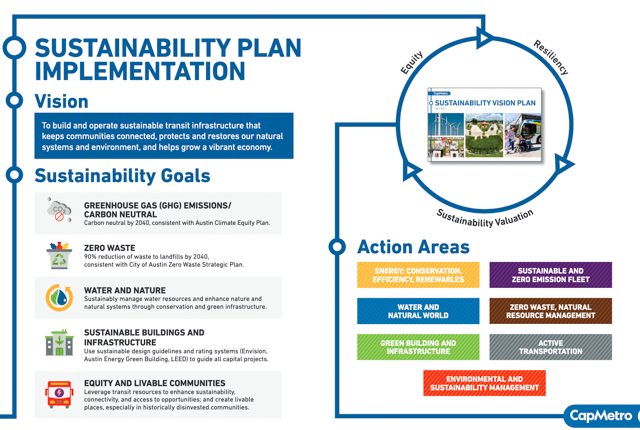 CapMetro welcomes – and encourages – your comments on our blog. Comments that are abusive in nature will be removed, in accordance with our social media policy.