Featuring an eye-catching design with bold colors and lines meant to illustrate strength, the CapMetro Women's History Month bus is hard to miss.
Austin graphic artist Angel Ortega of Garzig Designs designed the rolling piece of artwork, which she calls "Las Mujeres Fuertes" or "Strong Women." Among the strong women featured on the bus are slain Tejano singer Selena Quintanilla Pérez, tennis ace Serena Williams and, of course, Ortega's own mother.
Ortega was tapped for the project through the CapMetro Art program, which features the work of local artists on buses, as well as at some bus and rail stations.
"I applied for the CapMetro project because I loved that it relied so much on community feedback," Ortega said. "As a graphic designer, I am comfortable taking feedback and turning it from concept to completion. In all it took about two months of emails, sketches, reviews, feedback and throwing in an ice storm during a print deadline. That really made this project one that I'll never forget."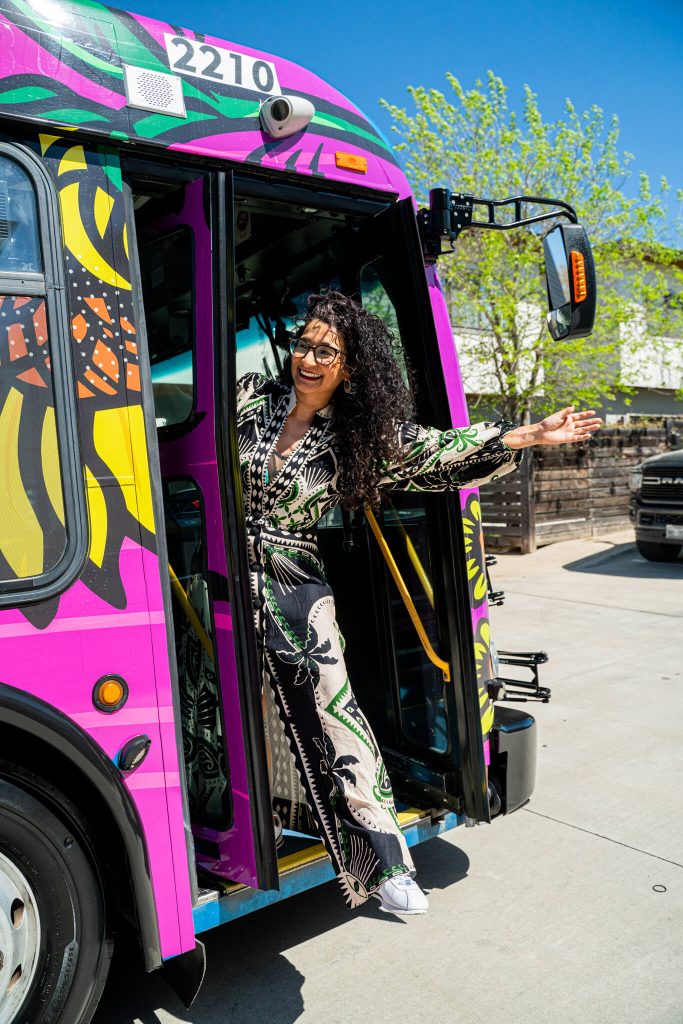 Ortega, who often spends her time working with young artists, credits her public school art teachers for helping her learn and grow as an artist from an early age. Later in life, she took graphic design courses at Austin Community College.
"I teach with the MexicArte Museum's Screen-It program," she said. "I visit East Austin schools, second grade through 12th grade, and I teach students how to screen print. I love to see the students' creativity and to help them make their designs into a screenprint T-shirt. My goal is to show them that you can make a career from your art and have fun doing it."
When Central Texans spot the Women's History Month bus throughout March, Ortega says her goal is for them to feel "pure joy."
"I have been getting tagged on posts and reels on social media and everyone's so happy to see my work roaming the streets of Austin," she said. "I have been creating art for a long time, so it feels amazing to be recognized and to get all the virtual high-fives. I joke with my friends and say I'm low-key Austin famous now."
The Women's History Month bus follows last month's Black History Month bus. Look for more specially wrapped buses throughout the year.
"It was inspiring to work with Angel to create this impactful bus wrap," said CapMetro Community Engagement Coordinator Kelsey Lammy, who helps oversee the CapMetro Art program. "As a woman myself, it was powerful to see Angel depict her mother on the wrap as my mom is also my biggest inspiration in life. And to see the women on the bus surrounded by these beautiful flowers is so powerful. Flowers are so resilient; they withstand rain and storms and continue to bloom every year, just like women."